Obituary for Andrew J. Susko, Jr.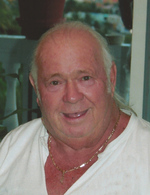 SUSKO, Andrew J. Jr. "Andy", age 72, of St. Martin, NA, died on September 13, 2013. Born in NY, NY he lived there for 23 years, Garfield for 13 years, and Saddle Brook for 17 years settling in to St. Martin 30 years ago. He owned and operated Andy & Cheryl's Baywatch Restaurant for 30 years in St. Martin, and he was a US Marine. He is survived by two sons, Andrew Smith and his wife Maria, Craig Smith and his fiancé Christy, a daughter, Cindy Fulford and her husband Charlie, two sisters, Diane Ingdal and Charlene Fiorentino, four grandchildren, Krystal, Adam, Sarah, and Austin, and his girlfriend Kathy Cimo Redvanly. Visiting Monday 2 to 4 and 7 to 9 pm. The funeral is Tuesday, September 17, 2013, arriving at the Aloia Funeral Home at 9 am followed by a 10 am chapel service. Private Cremation. The Susko family is in the care of the Aloia Funeral Home, 180 Harrison Ave., Garfield (973-340-7077). Condolences/Directions visit aloiafuneral.com
Order Flowers
Affiliations

American

Crucifix

U S Marine Corps
The insignias listed here may be subject to copyright and / or trademarked. Those copyrights and trademarks are owned by the respective organizations.
Life Story for Andrew J. Susko, Jr.
SUSKO, Andrew J. Jr. "Andy", age 72, of St. Martin, NA, died on September 13, 2013. Born in NY, NY he lived there for 23 years, Garfield for 13 years, and Saddle Brook for 17 years settling in to St. Martin 30 years ago. He owned and operated Andy & Cheryl's Baywatch Restaurant for 30 years in St. Martin, and he was a US Marine. He is survived by two sons, Andrew Smith and his wife Maria, Craig Smith and his fiancé Christy, a daughter, Cindy Fulford and her husband Charlie, two sisters, Diane Ingdal and Charlene Fiorentino, four grandchildren, Krystal, Adam, Sarah, and Austin, and his girlfriend Kathy Cimo Redvanly. Visiting Monday 2 to 4 and 7 to 9 pm. The funeral is Tuesday, September 17, 2013, arriving at the Aloia Funeral Home at 9 am followed by a 10 am chapel service. Private Cremation. The Susko family is in the care of the Aloia Funeral Home, 180 Harrison Ave., Garfield (973-340-7077). Condolences/Directions visit aloiafuneral.com